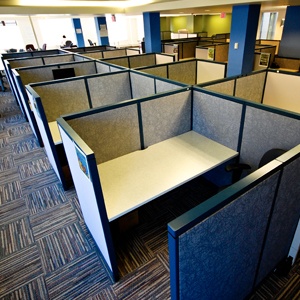 While you may not aspire to be an interior decorator or designer, there are some key space planning issues that you need to resolve BEFORE your office relocation rather than after – because by that time, you'll have to deal with added costs, risks and stress.
To help your move avoid that, here are the 4 key space planning-related questions you want to answer now, rather than later:
1. Do the walls need to be repainted?
Even if your new location is new (or relatively new), now is the time to ensure that the walls are both the color and tone you want to match your corporate colors, and provide a bright and lively atmosphere for your staff, visitors and customers, and so on.
And of course, if you decide that re-painting is in order, then you also need to decide who is going to do it and when. Remember: re-painting before your office relocation will be MUCH easier than after, since you don't have to worry about down time, moving/protecting your equipment, or temporary odor/indoor air quality issues.
2. Do you have the conference room you need?
There are three aspects of this important question.
The first aspect refers to actual physical space. For example, if your meetings typically have a dozen people, you need to ensure that the dimensions of your future conference room can comfortably accommodate this may people.
The second aspect refers to whether or not your future conference room is accessible for people with disabilities. Depending on the number of people in your organization and the prevailing laws in your state, you may need to make some modifications (e.g. doors large enough to accommodate those in wheelchairs, etc).
The third aspect refers to the design and aesthetics of the room itself. Does it have the appropriate look and feel of a professional conference room? Or is it dull, drab and essentially a re-purposed storage room? If it's the latter, than you want to make changes before your office relocation rather than after, as the process will be much simpler – which means it'll get done faster and cost less.
3. Do you have a new kitchen area/break room that needs to be furnished?
Even if you're the type of manager or executive who doesn't take breaks and who eats your lunch "on-the-go" (or sometimes not at all because you're too busy!), don't underestimate or overlook how important it is that your new kitchen area or break room is suitably furnished.
For example, you want to ensure – again, before your office relocation, not after – that there's an appropriate number of tables and chairs, and that the lighting and any window coverings are also sufficient.
And while you don't need to make this new space look like a First Class lounge at the airport or something that folks would find in a 5-star hotel, as noted above, this room is important to your staff, because it's where they often re-charge their drained batteries and collaborate with colleagues.
4. Do you need to take care of any electrical issues?
The last thing you want is your new space to be littered with extension cords and power bars – which is not only unsightly, but can also present a safety hazard and put your people at risk of injury.
To avoid this dangerous and potentially very costly scenario, proactively determine your electrical needs – both in terms of the power you need to safely operate your equipment (including any heavy duty or industrial equipment), as well as the number of outlets. Indeed, if you discover that you need to do any re-wiring, you definitely want to tackle that before your office relocation when it's simpler and faster.
FREE RESOURCE: Make Your Office Relocation Experience Stress-Free!
Your office relocation experience doesn't need to be stressful, costly or risky – but that only happens if you address key issues before your move; not after.
To help you achieve this key goal, download our FREE RESOURCE "The Ultimate Checklist for Moving Your Office". It's the simple and straightforward tool you need to ensure the most efficient office relocation experience possible!