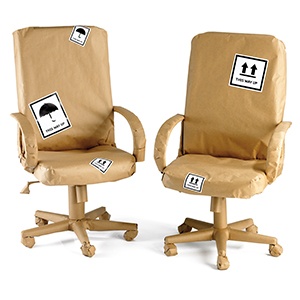 Obviously, you want and need your business move to be safe and on-time. Less obviously, however, you may not yet realize that professional furniture installers play a key role in achieving both of these critical objectives.
Below, we highlight the 3 reasons why professional furniture installers must be a part of your overall business moving team if you want the experience to be rewarding, rather than regretful:
Your Valuable Office Furniture Won't Get Dinged, Damaged or Destroyed
As you – or at least, your CFO and insurance company knows – office furniture isn't cheap! Even a basic workstation or cubicle can cost thousands of dollars, and more advanced or upscale models run into the 5-figures.
Professional furniture installers have the experience, training and certification required to ensure that your valuable assets won't get dinged, damaged or destroyed during un-installation, transit (since they will securely and appropriately pack all items for your moving team), and re-installation.
And while you should certainly expect the best, if something does happen to go wrong anywhere in the process, you can be assured that your professional furniture installation team is fully licensed, bonded and insured.
You Won't Face Schedule Overruns and Delays
Professional furniture installers have in-depth experience with various makes, models and product lines, and know precisely (i.e. down to the minute) how long it will take to uninstall and re-install different items.
All of this data is used to create a schedule and timeline that you can count on -- which doesn't just mean that you'll be able to "open for business" as expected, but that you won't pay extra moving costs, as movers and trucks sit idle while amateurs scramble to uninstall furniture. Believe us, this happens ALL THE TIME and we often get frantic calls from business owners and executives who need us to spring into action and save the day!
Office Furniture Setup and Planning
Professional furniture installers will do more than just uninstall, prepare to move, and then re-install your office furniture. They'll also work with you to plan your layout, optimize workflows efficiency, and maximize available space. What's more, they'll broom clean your old space and your new space, and take care of all tasks on the punch list (which of course will be submitted for your review/approval before they leave the premises).
Learn More
At Precision, we're proud to be St. Louis's most experienced independent team of professional furniture installers. We've helped businesses of all shapes and sizes keep their business move safe and on-time. Call us today for a free consultation, and discover how we'll ensure that your business move is rewarding -- not regrettable! For more on making your office move as seamless as possible, check out our FREE eBook How to Move Your Office in 5 Easy Steps now: