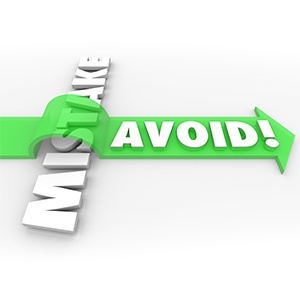 Whether we're talking about business or life in general, perfection is a noble goal, but an unrealistic expectation. Accidents happen, problems emerge, and challenges arise.
However, while it's impossible to avoid the occasional blunder, it's both wise and necessary to proactively try and mitigate the likelihood of facing problems in the first place. And so with this in mind, as you prepare for your business relocation in the weeks or months ahead, here are 4 costly office moving mistakes to avoid:
1. Underestimating the number of tasks and activities.
Even the most complex residential move is a "walk in the park" compared to seemingly simple office move. There are many more tasks and activities, including some that are dependant (i.e. tasks/activities must happen in a certain order).
2. Not backing up data.
Backing up data to the cloud, to physical storage devices (e.g. external back-up drives), or off-site to a disaster recovery site is a must. Think of it as insurance. If you don't need to rely on your back-ups, then in the bigger picture the time and resource investment is minimal. But if you do happen to need to repair or replace data because something unexpected happened during or right after your office move, then you'll be eternally grateful for being proactive – and so will your colleagues.
3. Assuming your office movers are also furniture uninstallers/re-installers.
Moving office furniture is a skill in itself, and requires much more experience and knowledge than moving residential furniture. However, don't assume that your office movers – however experienced they may be – can also reliably and effectively uninstall and re-install your office furniture. You want to ensure that your office moving partner can handle everything in-house.
4. Hiring the cheapest mover available.
Yes, you should get value for your money. But focusing solely on price and assuming that all office movers are created equal is a huge mistake! Remember: all legitimate office moving companies have to cover costs like labor, insurance, vehicle maintenance, and so on. Any mover who proposes a low-ball price is either cutting corners, or will tack on fee after fee once the move starts. Either way, you will definitely pay MUCH more than you want, and the cost savings that expected will disappear. As noted by Bankrate.com: "Less-than-reputable companies have been known to lowball the estimate to get your business, then pad the bill on the back end. Or the low estimate could be a sign that you might not be getting a professional crew, or that the company will subcontract your job to another firm. An estimate that is substantially lower or is calculated by anything other than weight is a red flag."
Learn More
To learn more about how to avoid these and other costly office moving mistakes, contact the Precision team today. We have over 30 years of experience, and will give you clear, honest advice so you can make an educated decision on what's right for your business. Your consultation with us is free.
For more information on how to move your office in five easy steps, download our FREE eBook: