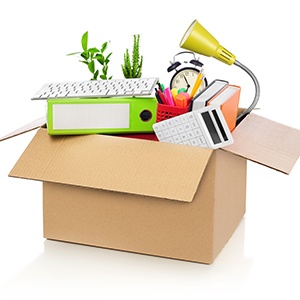 When preparing for an office relocation, "disaster planning" probably isn't top-of-mind. After all, we're talking about a business move – not data recovery.
However, each year thousands of businesses of all sizes experience office relocation-related disasters. As a result, they end up paying far more than they budgeted, waste excessive time, and experience massive stress and anxiety.
The good news is that you can proactively prevent catastrophes from happening. To point you in that direction, below we highlight 4 tips to ensure that you steer clear of disasters during your office relocation:
Don't Trust Quotes -- Trust Contracts
"Oh, it should only cost about a thousand dollars…or so…"
These words (and similar variations) are harbingers of office relocation disaster, because you have zero assurance that the bill you get will align with this "suggestion". And no, we don't mean that it'll be less than you expect. It will absolutely be MORE. That's how this game works!
The best and only way to protect yourself is to have a signed contract that clearly spells out what you'll pay. And if there are costs that may come up – such as last-minute changes that you initiate, or unforeseen issues that are not the fault of your office relocation company – then these, too, should be spelled out in the contract and you should agree to them ahead of time. If you need a PhD in Contractology to make sense of what you're paying for, then walk away.
Amateurs WILL Damage Your Furniture (and Maybe Themselves!)
It goes without saying that amateurs – and this includes any staff members who you "voluntell" to help out – WILL damage your furniture, and therefore obligate you to reach into your budget to cover repair or possibly replacement costs.
What's more, amateurs can injure themselves, which of course is bad news for them since they'll experience pain, suffering and probably loss of income. And it's bad news for you, too, since you'll be on the hook for medical costs, and possibly on the wrong end of a lawsuit or worker's compensation claim.
Robust Schedules are a Must
When moving from one house to another, the "worst case scenario" that your move takes longer than it should means that you might have to spend a night in a hotel, or perhaps with your in-laws (sorry, but we had to go there).
However, when it comes to an office relocation, the costs of your schedule slipping by a few hours – let alone a few days or even weeks – can be enormous, and easily run into the thousands or tens of thousands of dollars.
The right way to avoid this disaster is clear: well before moving day, ensure that you have a robust and realistic schedule that covers all tasks and activities. And if deviations are necessary (which can happen from time to time), then workarounds and contingencies should be ready-to-go at a moment's notice.
Work with the Precision Team!
The best and simplest way to avoid disasters during your office relocation is to partner with the Precision team. We have over 30 years of experience serving businesses of all sizes and shapes, and will leverage all of our knowledge and insight to ensure that your moving experience is rewarding -- not regrettable.
Contact us today to schedule your free, no obligation consultation.
For more on planning your office move, download our FREE moving checklist: