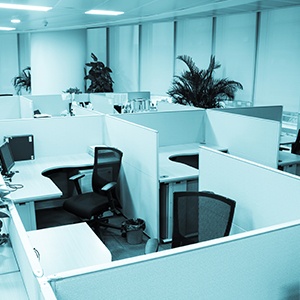 If you're planning on relocating your office, all of your people may make the trip to the new location, but chances are, some of your cubicles may not. Some businesses decide to replace them with new and better models, while others transition to a more open office concept with a cubicle-free zone.
However, rather than decommissioning your office furniture and throwing away your used cubicles - which means they'll end up in a landfill - it may be viable, both economically and ecologically, to sell them.
Below, we highlight the 5 key factors that impact value when you sell used cubicles:
What Drives the Most Value When Selling Used Office Cubicles
1. Demand
Generally, demand is the biggest factor that will determine how much your used cubicles are worth (i.e. how much you'll be offered by a buyer). If you're fortunate to have highly in-demand models, then there's a good chance you'll be able to sell them fairly quickly and for a reasonable price.
2. Condition
Condition is another major factor that determines used cubicle value. Cubicles tend to endure a lot of wear and tear over the years as they get moved around or bumped into, and the fabric walls can discolor and become embedded with dirt over time.
3. Quantity
Some buyers will only be interested in making an offer if you have several used cubicles to sell, rather than a handful or so. Keep this in mind if you get an offer for a portion of your available inventory.
4. Removal & Storage
Although it has nothing to do with your used cubicles (i.e. it's not related to their condition or demand), a buyer will factor in removal and storage costs when making their offer.
5. Location
If you're located in a smaller city, you may have a harder time selling your used cubicles – because prospective buyers will want to see them, and some may not be willing to make a long trek to do so.
Support in Selling Your Used Cubicles
If you've decided to sell your used cubicles, then the best advice we have for you is NOT to spend your valuable time trying to evaluate your inventory, find buyers, take photos, negotiate prices, and so on.
Instead, you can partner with Precision Office Furniture Installation to handle the process for you. We've a built a large nationwide network of credible and professional used office furniture brokers and dealers. We'll help ensure that you get a fair price and enjoy an efficient process – regardless of where your business is located, or how many used cubicles you wish to sell.
To learn more, contact us today. We'll be happy to provide you with a free, no obligation consultation.