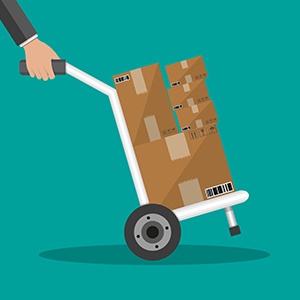 When it comes to residential moves, most people are familiar with the process of hiring a moving company that (hopefully!) shows up on time, packs and picks up boxes and furniture, transports them to their new destination, unloads/unpacks, and that's pretty much it. This isn't to say that it's not sophisticated or multi-step process – because it's both. However, there's typically just one type of professional involved: the movers themselves.
However, when the scene shifts to an office move, the situation is categorically different – and far more complex. That's why businesses need to ensure that they have not one, but six different types of professionals on their office moving team. These include:
Professional Space Planners
Long before moving day, businesses need to work with professional space planners to map out and optimize their new environment. This ensures that all equipment and furniture is strategically and correctly deployed, and that any improvements to infrastructure (e.g. wiring, telecommunications, lighting, flooring, wall coverings, etc.) are made before the move – not after.
Business Relocation Professionals
Business relocation professionals provide businesses with complete end-to-end office move management services. This includes developing timelines and schedules, providing complete packing services (including custom crating), disconnecting/reconnecting all electronics and computers, and ensuring on-time project completion.
Office Furniture Decommission Professionals
Businesses often discover that they have several items of office furniture that, for a variety of reasons, they don't want to take to their space. For instance, items may be deemed surplus, in need of repair, not aligned with the new décor, and so on. Office furniture decommission professionals help businesses sell, donate and/or recycle these unwanted/extra items.
Storage & Warehousing Professionals
Sometimes, businesses determine that some items of office furniture or equipment shouldn't be decommissioned, yet shouldn't be moved, either. For example, they may want to keep them on-hand for future needs/expansion. Storage and warehousing professionals keep these valuable assets safe, secure, and ready to bring back into inventory on-demand.
Office Furniture Installers
Office furniture may look to be "simply constructed", but even a small desk or table can be comprised of several components – to say nothing of cubicles and workstations, which typically have dozens of components. Office furniture installers ensure that these complex and valuable assets are safely, properly and efficiently uninstalled, packed, and re-installed at their new location, and in the right area.
Office Moving Professionals
And of course, office moving professionals handle the physical, logistical and project management aspects of the move itself. They also provide rapid resolution in the event of unforeseen issues, such as inclement weather, traffic disruptions, and so on.
Learn More
At Precision, we're proud to note that our in-house team of experts are ALL of these professionals. Unlike other companies that are essentially sales-organizations that "farm out" these essential tasks to various sub-contractors – or in some cases, don't offer them at all in order to boost their profits! – we put our customers' needs first. It's what we've done for more than 30 years, and it's a part of our culture and DNA.
To learn more, contact us today and schedule your free consultation. For more information on how to move your office in 5 easy steps, download our FREE eBook: