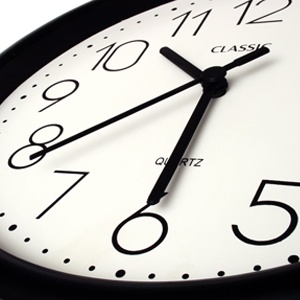 If you thought changing homes was a logistics ordeal, then it can be a "walk in the park" compared to a business move! That's because there are many elements that that must be coordinated to ensure an efficient office relocation experience – and among the most important is whether you have a robust and realistic relocation timeline. To help you create this critical tool, ask yourself these 2 questions:
1. When are you moving?
Often, businesses respond to this question by listing a moving date, such as "November 28". However, there's another part of the answer that must be highlighted: exactly when during the day or night the business move will take place, and/or if it will take place on a weekend.
The reason these details need to be identified is because they directly impact issues such as business continuity (e.g. if you have to take your systems offline while you move), staffing levels (e.g. if staff need to work remotely during the business move), and security (e.g. moving at 3am requires a different approach to security than moving at 3pm).
As such, while it's obviously important to know the date of your business move, ensure that you drill deeper and integrate the actual clock time into your relocation timeline – and make decisions and adjustments accordingly.
Also keep in mind that while moving at night may seem like a "no-brainer" because your office will be closed and you won't experience any productivity loss or customer service disruptions, you may actually pay more since the labor costs of moving furniture at night is more expensive than during the day.
2. Have you provided clear instructions to your employees?
While it's doubtless that your employees are intelligent and talented, it's NOT a good idea to assume they know what to pack – or even how to pack it – for your upcoming business move.
For example, your employees may assume that certain items will be moved on their behalf, such as their office supplies or even their personal items (e.g. pictures, plants, posters, etc.). On the other hand, some employees may think that they're supposed to move everything in their workspace, and can risk injuring themselves, or damaging furniture and equipment.
The way to avoid this confusion is to provide all employees with clear instructions on what to pack (and how to pack it), and what not to pack. And of course, ensure that you provide this information at least a week in advance of your business move so that all staff have a chance to review it and ask questions if necessary.
FREE RESOURCE: Make Your Business Move Efficient & Stress-Free!
Creating a robust and realistic relocation timeline is a critically important part of your business move. However, it's just one of several key factors that you want to address ahead of time.
Get the insight you need by downloading our FREE RESOURCE "The Ultimate Checklist for Moving Your Office". It's a simple and straightforward tool to ensure the most efficient and stress-free business move possible!