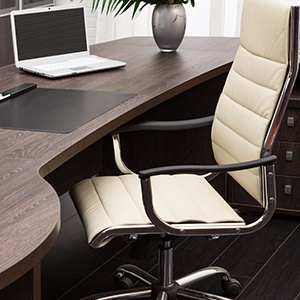 Here at Precision, our clients often ask us, "How to find more of my existing office furniture?"
And while we know that Ms. Manners would frown on us answering a question with a question, our decades of experience compel us to respond with this rather loaded inquiry: Are you really sure you want to do that?
Now, before we spark any misunderstandings: we are office relocation specialists, and as such we have absolutely no financial interest in whether our clients buy new or used furniture (or both). Our only goal is that they have the most efficient and stress-free business move possible.
Yet the reason we warn our clients from sourcing used furniture on their own, is because without experience and expertise in this area, it's a challenging and risky task -- and nothing like shopping for used residential furniture, which can be relatively simple and even quite fun (if you like that kind of thing!).
Here are the 3 key reasons why we advise our clients from sourcing used furniture on their own:
3 Reasons to Source Office Furniture with a Professional
1. Difficulty Finding Matching Furniture
It can be surprisingly – and stressfully – difficult to find makes, models and colors of used office furniture to match current inventory; especially if it is several years old. Businesses that don't know where to look (and where not to look) may find that they spend months looking for the right match; and even then they may never be successful.
2. Quality Concerns
Unfortunately, not all used office furniture has been refurbished or even disinfected and cleaned to the same high standards. Just as with used cars, used computer equipment, and so on, businesses can end up with dysfunctional and unsafe furniture – which won't just lead to replacement costs, but can lead to employee injuries, and even lawsuits if it contributes to an unsafe work environment.
3. Cost Concerns
The simple and obvious reason to source used office furniture is to save money. However, because of the risks noted above, some businesses find that they don't reap the savings they expected because of time investment, plus the potential costs associated with buying the wrong items and having to refurbish or replace them sooner than expected.
The Safe, Smart Way to Find More of Your Existing Office Furniture
At Precision Office Furniture Installation, we've built a massive nationwide network of credible used business furniture dealers, and can tap into it to quickly and effectively search for more of your existing office furniture – and usually find it at very competitive pricing.
What's more, we can safely store your furniture in our 100,000 square foot facility, which means there's no need to wait until after your office relocation to "start shopping". You can start and finish ahead of time, and we'll keep your used furniture safe until moving day. To learn more, contact us today.
Get More Business Moving Tips
Get more tips by downloading our free eBook "How to Move Your Office in 5 Easy Steps". It's an easy-to-read overview of how you can make your office move as efficient and stress-free as possible.