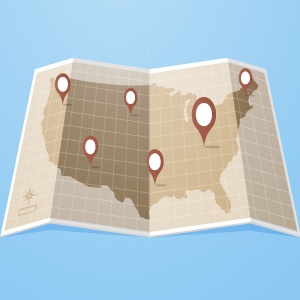 Here at Precision, for more than three decades we've had the privilege of helping businesses safely and successfully relocate their operations. And while many of these moves are within the same city or across the state, we've also helped numerous businesses move to other states – whether they're heading "next door" to Illinois, Iowa or another adjacent state, or journeying across the country.
And while each of our clients is motivated by unique factors and details, generally speaking here are the four most common reasons why an out-of-state office relocation made sense for them, and why it might be on your horizon in the months to come:
1. Lower overhead and operational costs.
As noted by the St. Louis Business Journal, St. Louis is among the most affordable large cities (population 2 million+) in the country in which to do business. However, after crunching the numbers, it may be beneficial – or possibly necessary – to think of heading to another state where overhead and operational costs are lower in the long-run.
2. Larger labor market pool.
While the talent pool in St. Louis is deep, some businesses are struggling to recruit to people they need. As noted by St. Louis Public Radio: "Employers are still finding gaps, and they are still finding gaps in terms of the soft skills, but they're also finding gaps in terms of shortages in science, technology, engineering and mathematics."
3. Get closer to suppliers and vendors.
If a major supplier or vendor moves their base of operations from St. Louis, Kansas City or Springfield to New York, Los Angeles or Dallas, then it may be necessary from a supply chain standpoint to shift with them. Or at least, opening up a satellite location out-of-state may be necessary to help keep costs under control while ensuring efficiency and quality.
4. To facilitate a merger, acquisition or strategic partnership.
While the web and other technologies have made it much more viable for business entities in various locations to collaborate (formally and informally), it may be necessary in some cases to physically relocate as a result of a merger, acquisition or strategic partnership.
Learn More
At Precision, our heart is in St. Louis, and so is our headquarters! But we realize that some businesses need to explore the possibility of moving to another state. If this a possibility that's on your radar screen – or you've already decided that an out-of-state move is required – then contact our team today. Your consultation is free, and our in-depth experience is your valuable advantage.
For more information on how to move your office in five easy steps, download our FREE eBook: