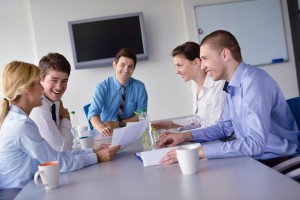 Office relocation is a complex undertaking that takes considerably more time and planning than moving any home. In cities like St. Louis, where capital investments doubled three years ago, many small businesses have found it necessary to relocate to larger spaces. Understandably, the amount of time and planning needed increases with the size of the office, number of employees, and amount of equipment that needs to be moved. After all, the business world waits for no one.
When it comes to office relocation, there are a variety of factors that must be assessed and coordinated. The physical structure of the office should be laid out in a way that maximizes efficiency, and makes the best use of space. Thus, relocating an office can be an overwhelming project, which most businesses simply do not have the resources to handle on their own, especially not while carrying on their day to day operations.
Corporate relocation companies are designed to assist companies with all aspects of office relocation. This includes everything involved in the business moving process, from office relocation planning to office furniture installation.
Given the fact that there are over 47,000 small businesses in the greater St. Louis area, businesses of all sizes are constantly relocating to more accommodating spaces. When it comes time to enlist a corporate relocation company, it is always in their best interests to hire one that offers the fastest, most efficient service, while also minimizing interference with office productivity.
While it is inevitable that office relocation will cause some temporary inconvenience for employees, that does not mean that it should adversely affect office efficiency and productivity. This is one of the foremost advantages of entrusting your office move to the best corporate relocation companies. They will develop the soundest office relocation plans, and provide professional office installation services to maximize the efficiency and productivity of any business.