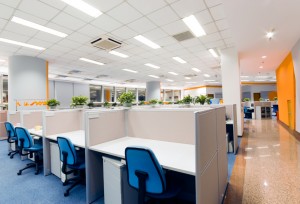 Offices of the past were fairly uniform no matter where you went. Spaces varied little from the design of rows upon rows of cubicles. Now, however, company presidents and CEOs are rethinking the layout of the office, and they're looking to install more collaborative spaces for their employees, too.
If you're considering a company relocation or a redesign for your office, the best approach is to work with an office furniture installation company that will provide you with a unique solution to promote productivity among your workers. An office moving and furniture installation company may also provide a checklist to break down the process for the rejuvenation of your office.
Just what kinds of trends are managers and executives looking toward to make their workplaces one-of-a-kind? The cubicle is dead -- here are a few fixtures that are "in":
Tables
Having a set-up of tables and chairs might seem pretty basic -- and it is -- but it can also allow for collaboration far more easily than cubes do. And this setup doesn't just work for the conference room. Having large and small tables for employees to work at can also aid in concentration by allowing employees to move from space to space to clear their heads. They can also use this space to think more deliberately about their projects -- a Dutch concept known as "ABW" or "activity-based working."
Modular Spaces
In addition to being able to move from table to table, some offices are rethinking the cubicle entirely. Modular office furniture than can be re-stacked, redesigned, and moved on a whim can allow for group and individual work as needed.
Couches and Armchairs
Sometimes employees not only want to escape their desks but be comfortable at work, too. Having plenty of plush armchairs and couches for everyone can provide a new space for projects. And nothing says that commercial office furniture has to be boring! By installing couches and chairs into your office space, you can feel free to get creative with regard to color, shape, material, and design.
Need more ideas for redesigning your new or current office? Be sure to talk to an office furniture installation company or interior designer about your options. You can also leave a comment below with suggestions for what works in the office (or what doesn't).