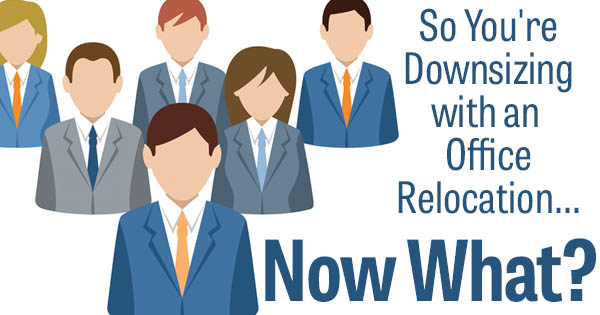 Just this week, Toyota announced that they would cut jobs at their Australian headquarters and will reduce their Aussie workforce by about two-thirds by the year 2017. Those cuts included both manufacturing jobs, which are being completely eliminated, and white collar jobs at their corporate office. As a result of the downsizing, the company will move its head office from Sydney to Melbourne, which means that workers will either have to move or be forced to find other jobs in their home city.

However, Toyota's Australian operations aren't alone in cutting jobs. All types of industries have seen lay-offs for a variety of reasons, and for business owners, many of these staffing reductions are necessary to stay afloat. Making the decision to eliminate jobs or restructure is one issue, but a resulting office relocation plan may be necessary for businesses in need of more affordable spaces.

If you are currently downsizing your workforce or making other changes to save money, there are several things you can do before you embark on an office relocation, from preparing well in advance to taking advantage of office furniture installation services when you move. Here are some thing to consider before you begin your relocation.


1. Keep your employees informed

Workers may feel alienated if they are not notified in advance of any moves. Some moves may only involve going down the street or across town; others that require greater distances may be disruptive for employees, and they could result in the loss of more jobs. Whether you suspect that your employees will have to relocate or not, it's best to alert workers to the change as soon as possible.


2. Figure out what stays and what goes

An office move is also a great time to take stock of the equipment you have. Is it time to dump the old for the new? Or is this an opportunity to reevaluate how your company uses its resources? For example, if you have 100 computers, but only 50 employees who need them, you may be able to sell or donate what you're not using. The goal is ultimately to make the move simpler, especially if you're preparing to move to a much smaller facility.


3. Plan your new office accordingly

Moving to a new facility can be a daunting task when you have to worry about packing up desks, cubicles, and IT equipment. In order to move and get set up as quickly as possible, you might consider using an office furniture installation services company to take care of the busy work. Office furniture installation services can also help you determine the best layout for desks and offices in order to maximize a new, smaller space. These services are typically provided by office moving companies, which can help your business relocate, too; many also provide storage and warehousing to store extra equipment and files if you won't have the room for them.


What will you do to prepare for a relocation? Tell us about how you're handling your company's changes in the comments.