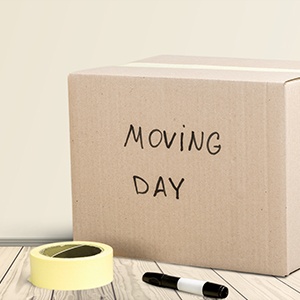 After weeks or perhaps months of research, analysis and consideration, you've decided that it's time for an office relocation -- perhaps because you need more space for your growing workforce, you want to be closer to your customers, you need a more cost effective home for your business, or any other key reason(s).
However, you may also be under the impression that an office relocation is essentially a "scaled up" residential move. Nothing could be further from the truth! Here are 4 common and costly misconceptions that, thankfully, you won't fall victim to because you're reading this article before your office relocation – not after:
Misconception #1: It's possible to handle an office relocation on your own ("DIY")
With over 30 years in the office relocation industry, we've lost track of how many panicked business owners and executives have called us because their DIY approach led to damaged furniture, injured employees, missed deadlines, and excessive costs. Yes, there are things that some businesses can do themselves to save money and time. However, an office relocation is categorically NOT one of them. It's a sophisticated, multi-phase process and project that must be handled by experienced professionals.
Misconception #2: It'll only take a few hours to complete an office relocation
The thing about an office – even a relatively small one – is that it typically contains MUCH more than meets the eyeball test. As such, what may look like it should take a few hours, can often take days.
What's more, businesses that (as noted above) mistakenly opt for the DIY approach will always take longer to move than professionals – and the duration variance could be significant. For example, office furniture that would take professionals 15 minutes to un-install could take amateurs or employees 2 hours; and they'll probably damage the item and/or injure themselves along the way.
Misconception #3: You don't need a comprehensive moving plan
We're all familiar with the adage that "a failure to plan is a plan to fail". However, this sage wisdom takes on an even more significance when it comes to an office relocation. Without a plan that clearly identifies what is going to be moved, where it's going to be moved, when it's going to be moved, and who's going to move it, a regrettable experience is a foregone conclusion.
Misconception #4: Your employees can help with the move
We'll get right to the point: DO NOT INVOLVE YOUR EMPLOYEES WITH THE MOVE.
We're sorry for YELLING, but there's a reason why sirens are loud, scary and annoying instead of soothing lullabies. Sometimes you have to do what it takes to get people's attention, and yelling can work.
Here's what we urge you to remember to protect your employees and, frankly, to avoid paying huge medical bills or facing a lawsuit: nowhere in an employee's job description are the words "…and will help with office relocation on an as-needed basis".
Yes, employees can and should help pack certain items, such as their office supplies, personal items (e.g. awards, framed pictures, etc.), and so on. And they can also help clear their workspace so it's safe and easy for professional movers to get in and get out. But no, they shouldn't under any circumstances be asked to un-install or move any furniture, boxes, or anything else. They aren't trained, and it's only a matter of time before they damage something – or damage someone, including themselves.
Learn More
At Precision, we help businesses experience the efficient, professional and cost-effective office relocation they want – and steer clear of misconceptions and mistakes that will add to their costs, risks and stress. To learn more, contact us today. Your consultation with us is free.
For more information on how to move your office in five easy steps, download our FREE eBook: