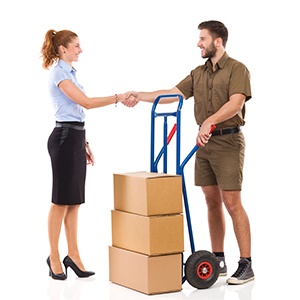 In both business and life in general, it can tough to separate experienced professionals from those that may be full of enthusiasm, but haven't yet developed the knowledge base required to perform at an elite level. Unfortunately, it's customers, clients and patients who pay the price – because instead of a rewarding experience, they end up with one that's regrettable.
To help you avoid pitfalls and setbacks during your office relocation, below we highlight the 4 most common mistakes made by inexperienced office movers. These are the clues and symptoms that tell you that it's in your best interest to find another partner now -- not later.
There's no comprehensive office relocation plan
The word comprehensive is used deliberately here. Many inexperienced office movers will claim to put together a plan, or send you a document with the word "PLAN" on it somewhere – but if it's not comprehensive, then it's not a plan!
A comprehensive plan is one that covers every aspect of your office relocation, including schedules, risks, contingencies, a list of key personnel (both from the moving company and from your team) that will participate in the move, and more.
In addition, this plan isn't something that your office mover should create on their own and submit to you. It must be developed together with your team, and integrate your input and requirements.
The cost is startlingly low
The adage "you get what you pay for" is alive and well in the business moving industry. This isn't to say that you shouldn't seek a value and benefit from a competitive price. However, if the quote you get seems startlingly low, then instead of seeing it as a real bargain, you should view it as a red flag – because it likely means that you're assuming certain services that aren't included.
To put your mind at ease and protect your budget, ensure that ALL services are clearly listed and described in the proposed agreement, including (and especially!) any additional costs that may be incurred before, during or after your move. For example, some low-ball office moving companies enforce what amount to punitive fees from 6:00pm onwards – which can come as a very unwelcome surprise when the final bill arrives. And yes, when you reflect back and ask yourself whether the movers deliberately s-l-o-w-e-d things down in the morning and afternoon so they'd start triggering the evening rate, the answer to that is YES.
They don't have or won't show you testimonials
This one is simple: you should always ask for testimonials from other customers (which can be in various forms, such as written feedback, video testimonials, case studies, success stories, etc.). And you should be free to contact these customers directly to ask them about their experience.
If you get ANY push back from your office moving company, then you should immediately look elsewhere. It either means that the company doesn't have any testimonials and is therefore inexperienced, or their experiences so far are SO bad, that they don't want you to know about it.
They don't have an in-house team of professionals
Many inexperienced moving companies aren't really companies in the classic sense. They're really a sales team (or possibly 1-2 people) who spend all day trying to book office moving gigs. When they get one, they subcontract to general laborers who don't know what they're doing, and NOT professional movers who do.
To avoid this minefield of problems just waiting to erupt, ensure that your office moving partner has an in-house team of professionals that include movers, project managers, and furniture installers. And of course, all of these professionals must be experienced, qualified, certified, insured and bonded.
Learn More
At Precision, we pride ourselves on proving our satisfied customers across St. Louis and throughout Missouri with the professional, affordable, and value-added office moving experience they want, need, expect and deserve.
We welcome you to contact us to learn more, and to see why we're the area's most experienced and respected independent office moving company. Your consultation with us is free.
For more information on five easy steps on how to move your office, download our FREE eBook: