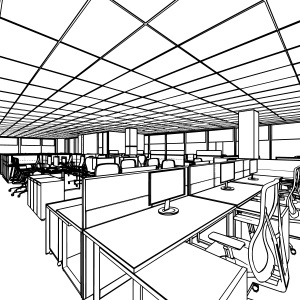 As you consider relocating your office – or have already decided to do so -- a key consideration that you want to spend quality time focusing on is the importance of space planning. Specifically, you want to research and explore 5 key aspects:
1. Shared Spaces
More and more businesses of all sizes – from aspiring start-ups, to established enterprises – are creating shared spaces that allow employees to organically and, in some cases, spontaneously collaborate and connect. If you explore this type of configuration, keep in mind that your furniture, equipment and even lighting should enhance productivity and performance; not impede it.
2. Future Planning
Office reconfigurations can be costly and time consuming – and if you will be leasing rather than owning your new space, you may face limitations from your landlord or property manager. As such, it's wise to envision how your company may grow in the coming years – and if so, how you'll be able to efficiently and effectively welcome new staff.
3. Furniture Audit
A furniture audit involves taking an inventory of your current office furniture, and deciding how it will – or won't – fit your new space. For example, some items may be worn down or even malfunctioning (e.g. chairs that no longer adjust, etc.). Other items may simply not align with your new décor. Also keep in mind that you'll need to appropriately decommission any unwanted furniture, either by selling, donating, recycling, or disposing.
4. Inspection
While high resolution photos, videos and layouts can help you discover what your new office space will look like, nothing replaces an on-the-ground inspection. As such, make it a point to pay at least one – but better yet, several – visits, so that you can make accurate space planning decisions. At the same time, an inspection allows you to detect any issues with lighting, wiring, parking, and so on that should be addressed and resolved before your office relocation – not after.
5. Employee Feedback
And last but not least, ensure that you talk to your employees and get their feedback on the move. Help them understand why the move is taking place, and when possible and practical, implement their suggestions on how to optimize the new space. Whether moving into a larger or small location, an office relocation experience should be a fun, positive event for everyone!
Making Your Move Simple & Efficient
For more information on making the most out of your office relocation – including some handy space planning tips -- download our free ebook "How to Move Your Office in 5 Easy Steps".