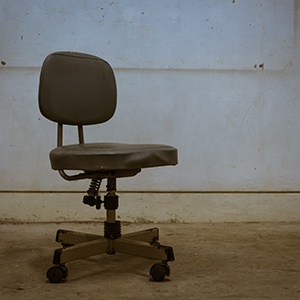 As you may have discovered or will soon find out, over the years businesses – just like homes – can collect a surprising (and sometimes staggering!) amount of unwanted office furniture.
Indeed, it's not uncommon to find that entire rooms or sections of a warehouse have become something of an old furniture graveyard. The reason? Typically, it's a matter of inertia: furniture at rest stays at rest. And besides, most business owners and executives are constantly focused on high-priority tasks (increasing sales, satisfying customers, developing strategy, etc.). Spending time to decide what to do with unwanted office furniture is one of those "we'll get to that later…" things that, alas, never quite make it on the agenda.
However, now that you're planning on changing offices – even if it's across the street, or perhaps even within the same building – you're obliged to resolve the matter. After all, you don't want to spend money and time moving furniture that you won't use (again!).
To point you in the right direction -- and avoid exporting your old furniture graveyard to your new space -- here are your options:
Sell Your Unwanted Furniture
Provided that your items are in reasonably good (i.e. saleable) condition, you can likely sell them – which is not just environmentally friendly, but will generate some revenue as well.
Many businesses give their employees first crack at unwanted office furniture. If so, then ensure that the process is fair – i.e. that certain employees don't have the opportunity to bid/buy while others don't. Having an online auction and donating some of the proceeds to charity could be ideal here.
Or, if you don't want to sell the furniture internally (or are unable to sell all items – not many employees need/want a cubicle!), then you can try to sell items privately. Unless you happen to know of a business that wants to take immediate possession, we don't recommend this route, since it can be tedious and risky. Rather, we suggest that you partner with a used furniture broker or dealer who will take your items on consignment.
Recycle Your Unwanted Office Furniture
You may be able to recycle some or perhaps even all of your unwanted office furniture, which would certainly demonstrate your environmental leadership. You may also be able to generate LEED points.
If you take this route, then we encourage you to publicize your efforts on your website, in your newsletter, and so on. You may even want to encourage other nearby businesses to participate as well.
Dispose of your Unwanted Office Furniture
If selling and/or recycling aren't the answer (or aren't the complete answer), then you'll need to dispose of your unwanted office furniture.
Because of the materials and sometimes the chemicals used in office furniture, you'll need some guidance on this – i.e. you can't just put the items "out on the curb" or have an employee with a pick-up truck take them to the local dump. You may also (and probably will) incur a disposal cost that will be set by your municipality or county.
Learn More
To learn more about what to do with unwanted office furniture during an office relocation, contact the Leap Clixx team today. We can help you sell, recycle and/or dispose of unwanted items.
And if there are some items that you want to keep in your inventory – but not put on-site at your new location – then we'll safely store it in our own climate-controlled warehouse for days, weeks, months or even years.