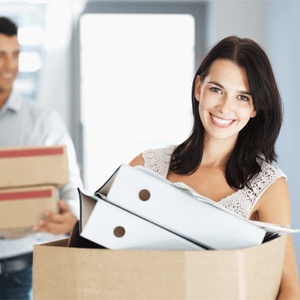 When you've been in the office relocation industry for more than three decades like we have, you tend to pick-up a few tips along the way that can make an ENORMOUS difference in whether a business move is stress-free and efficient…or whether it's the opposite!
Normally, we share these tips with our customers as part of our coaching and consulting. However, recently we decided to post them here in our blog so they could reach and help as many people as possible.
So far, we've pointed out that if your goal is to enjoy the most efficient move possible, you should:
Be aware that furniture may ultimately end up costing less than used furniture
Don't assume that moving after-hours may not the best decision.
Know that not all cabinets are not created equal (at least as far as moving goes).

Check to see if any furniture and equipment needs special attention.
Do some spring cleaning -- no matter the season!
Tell your customers and vendors about the business move well in advance.
Determine if any documents are confidential and should moved by hand.
Evaluate the parking situation.
Now as we wrap things up, we'll look at two more tips that are vitally important.
9. Have your potential new premises inspected by a professional.
Obviously, you haven't (or won't) sign your new lease or ownership papers "sight unseen." Even if you have a library of high resolution pictures and maybe even some 3D video, there's no substitute for an in-person look; or rather, several of them.
However, no matter how good things look or, frankly, how positive and confident your real estate agent or property manager feel, you want to have the new premises thoroughly inspected by a professional.
Specifically, you want to look "behind the scenes" to make sure that the environmental systems (HVAC), wiring, plumping and drainage, roofing, and other elements are in solid shape – and not on their last legs. You also want to look for signs of mold or other hazards or contaminants that could wind up costing you thousands of dollars and plenty of hassle to clean-up.
The bottom-line is that you should get a "clean bill of health" from a qualified third party consultant or building inspector before you sign your lease or purchase agreement, not after. And if there are any items that need to be taken care of by your property manager, ensure that this is written into the agreement and verified by your legal advisor.
10. Hire a professional moving company.
This cannot be stressed enough, and is by far the #1 mistake that some businesses make – because it invariably leads to excess cost, wasted time, tons of stress, and often damaged equipment and furniture. In other words: it creates an office relocation nightmare!
A professional moving company is one that specializes in moving businesses – and that's it! They don't "dabble" in it on the weekends, and they don't move families in the morning and businesses in the evening – because these two moving projects may seem similar, but in fact are very different and require completely different approaches, processes, tools, training, and so on.
What's more, a professional moving company is one that is cost-effective and affordable, because they save you valuable time (which in the business world equals money), plus they take full responsibility of the planning, logistics and manpower. And of course, they have the references and testimonials to verify their experience and professionalism.
FREE RESOURCE: The Essential Business Move Checklist!
If you're considering a business move or have one planned, then be sure to download our FREE RESOURCE "The Ultimate Checklist for Moving Your Office". It's an easy and practical tool to help you experience the most efficient business move possible!