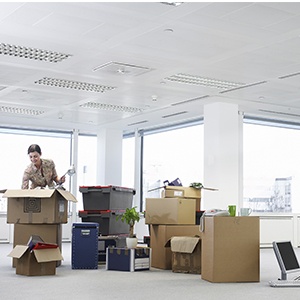 As you plan for your upcoming office relocation, there may be someone on your team – or possibly yourself – who is suggesting the possibility of a do-it-yourself (DIY) business move.
On the surface, this may seem like a compelling and convincing idea - especially since saving money is always a key organizational priority. And DIY may seem like the ideal way to generate some attractive ROI.
But think again...
With over 30 years of office relocation experience, and after hearing countless horror stories from business owners and decision-makers, we can say with well-earned authority that a DIY business move is something you don't want to do – because instead of saving money, you could end up triggering a risky and costly catastrophe.
Below, we highlight the 3 reasons why you can't afford to move your business on your own:
3 Problems with Moving Office On Your Own
1. Schedule Delays
When moving into a new house, schedule delays – while obviously unwelcome – generally don't cause major financial damage. Spending a few extra days in a hotel or with relatives can be arranged.
However, when moving into a new office, schedule delays are VERY costly, because staff still need to be paid, customers still need to be served and overhead costs need to be covered. The costs can easily run into the thousands per day.
This is important to note, because most DIY business moves suffer from significant schedule overruns. This is because well-meaning staff members and other "helpers" (i.e. family members, friends, etc.) vastly underestimate just how much time it takes to disassemble, move, and reassemble office furniture.
It's not as simple as packing boxes. It's a sophisticated, complex process. Even the simplest-looking cubicle can have dozens of component parts. The same goes for workstations and desks.
2. Damage
Most residential furniture is fairly generic, and can be disassembled with an Allen Key or other tool (e.g. Phillips screwdriver, etc.). While the process isn't fun, it's usually at least feasible.
However, office furniture is an altogether different story. There are literally hundreds of manufacturers in the marketplace, and each of them has a different design approach. These items cannot be simply disassembled with generic hand tools. Rather, power tools are necessary, and they must be fitted and handled properly.
This is (once again) important to bring up, because it's safe to assume that nobody on your team has specialized office installation training and experience. As such, any attempt to disassemble and then reassemble office furniture is going to result in damage – which could render various items unsafe or unusable. Severe damage may even require an item to be replaced.
3. Injuries and Liability
The fastest way to turn a DIY business move project into a regrettable disaster is to have a staff member (or other helper) get hurt along the way -- and there are MANY ways this can happen.
For example, untrained movers can injure themselves while lifting or lowering furniture, they can be hit by sharp corners, they can have large items topple over on them, and the list goes on. And be assured: this is not "worst case scenario" stuff. These injuries happen every day, and the proof is found in emergency rooms -- and courtrooms.
If you're working with a professional business relocation provider, then you don't have worry about injuries – or the liability that may result from accident or injury. However, if you take the DIY route, you're putting yourself at risk of having to pay tens or even hundreds of thousands of dollars in repair bills, health care claims costs, and lawsuits.
Learn More
At Precision, we've helped businesses enjoy successful, stress-free and cost-effective office relocations for more than 30 years. We also have highly trained office furniture installers on staff, which means that your valuable furniture – and your people – are safe and secure. We understand that your goal is to save money. We'll help you understand why working with us is the smartest, shrewdest investment you can make.
To learn more, contact us today and take advantage of your free, no risk, and no obligation consultation.