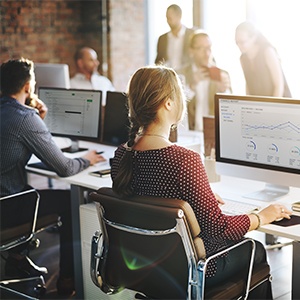 As you browse festive pictures of life inside the offices of Google, Cisco, and Netflix, you may feel that the only way to turn your space into an "award-winning environment" is to spend months or maybe years of time – not to mention hundreds of thousands of dollars!
However, there are several things you can add to your office layout that will immediately make a positive impact, but without bursting your budget. Below, we highlight 5 of the most popular options:
Switch to an Open and/or Benching Layout
An open layout is where employees work in open view of each other, and as such individual work areas aren't designated or demarcated. There are few if any partitions or cubicles, and interaction and collaboration are much easier since they emerge spontaneously. A benching layout is a kind of open layout where employees sit face-to-face in rows (i.e. two lines of employees would face each other).
Introduce Sit-Stand Workstations
One of the easiest and most cost-effective ways to win "boss of the year" is to give your employees sit-stand workstations. As the name suggests, these ergonomic workstations allow employees to sit or stand throughout the day, in order to promote flexibility, alertness, circulation, and even interaction and collaboration. What's more, sit-stand workstations are very impressive-looking, and can turn a dated "old fashioned" office into a futuristic environment in a matter of hours.
Warehouse Excess/Unused Office Furniture
Excess or unused office furniture takes up valuable space – and also diminishes aesthetics. You can solve both problems right away by warehousing what you don't need or aren't using.
Professionally Clean Furniture
Yes, you likely have a cleaning staff and they probably do a great job. But there's a difference between dusting off a chair and performing a thorough, industrial-grade cleaning that gets rid of germs, bacteria, odor, and visibly improves aesthetics. Having your furniture professionally cleaned is a fast and very effective way to improve your office layout.
Bring in Mother Nature
Adding simple, inexpensive houseplants to your environment can (literally!) liven up your office layout – because they help reduce airborne pollutants, and also boost oxygen and hydration levels. What's not to love?
Learn More
To learn more ways that you can cost-effectively and rapidly improve your office layout, contact the Precision team today. We work with businesses of all shapes and sizes to help them get the MOST of out their space, so they: improve image, morale and aesthetics, and ultimately enjoy a stronger business and higher bottom-line.