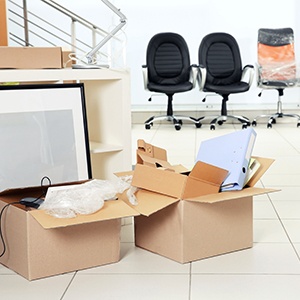 Let's start with this: the best and only way you should move office furniture is by hiring professional movers.
Yes, we realize that this "advice" may seem self-serving, since we're a professional office moving and furniture installation firm. And yes, we'd be delighted to serve your needs.
However, even if you don't hire us and opt for another experienced and credible company, our message and warning remains the same: don't take the do-it-yourself route. In addition to wasting your money and time, you could damage your valuable furniture or injure your employees -- who, by the way, DON'T want to be tasked with moving office furniture and resent being "voluntold" to do it (trust us on this, we've heard more "off the record" feedback from employees over the years than we can remember!).
Yet with this being said, there may be some pieces of office furniture – such as smaller, more portable items – that you may want to move on your own, while you leave workstations, desks, cubicles, and so on to professional movers.
If that's something you're considering or have already planned to do, here are 5 tips for safely and smartly moving office furniture:
1. Give employees a timeline, so they know when the move is going to happen – and therefore can, if they wish, decide to take certain items home (e.g. awards, photos, plants, etc.). Make sure you use deadlines as well, since some employees won't take action without one!
2. Several days in advance of the office move, provide employees with boxes or bins so they can pack office supplies – which will make cabinets and desks lighter and easier to move. Your professional office moving partner will supply you with the boxes/bins you need, along with labels.
3. Have employees shred or recycle (as appropriate) all files or other documents/paper that is not required. Similar to above, this will significantly lighten cabinets and make them easier to move.
4. On pre-moving day (typically at the end of business), have employees allocate enough time to make sure that traffic areas are 100% free and clear, so that professional movers can work safely and efficiently.
5. Ensure that employees don't show up to work at their new office, only to find that furniture is still being moved or re-installed. If so, they may be tempted to try and help – only to damage furniture, injure themselves, or simply get in the way and make the process take longer than scheduled. Plan to have employees work from home or at another remote location as necessary.
Learn More
To learn more about safely and smartly moving office furniture – so that heading to your business's new home is efficient and trouble-free – contact the Precision team today. Your consultation with us is free.
For more general information on 5 easy steps to move your office, download our FREE eBook: