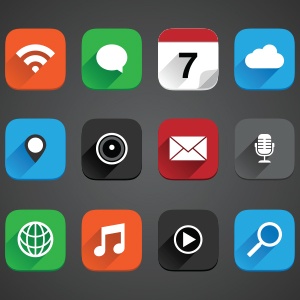 Moving your business is no easy task! To help you remember all the necessary tasks it takes to move a business, we've rounded up 7 of our favorite moving apps:
1. Move Planner
Move planner is an iOS app that offers a range of relocation planning tools, including the ability to track the number of boxes required (and various sizes). The app also comes with more than 100 pre-loaded moving tasks, and task lists can be organized and sorted per various criteria.
2. Evernote
Evernote is a popular project planning and management app, but it's suitable for business moves as well. For example, you can create to-do lists, track budgets, assign activities, analyze task dependencies, and more. Currently, Evernote is available for iOS devices only.

State Farm Move Tools is popular among homeowners, but there are aspects that can support a business move as well, including: customizable to-do lists, printable labels, and creating a "virtual inventory" so that employees don't have to wade through boxes to find office supplies, etc. Currently, State Farm Move Tools is available for iPad only.
4. BuildApp Pro
BuildApp Pro is excellent for designing and mapping layouts of your new location, so that you can maximize space utilization and plan the move accordingly. You can also share 3D renderings with employees, so they can get a sense of what their new work environment will look like. Currently, BuildApp Pro is available for Android devices only.
Moving Planner is another Android-only business moving app. It has plenty of templates, and checklists, including more than 200 pre-loaded to-do items. Everything can be backed-up and synced to the cloud as well, which is handy with multiple individuals are involved in planning the move.
6. Sortly
Available for iOS devices, Sortly bills itself as "the ultimate organizer app". It's easy to use, and lets you create a visual inventory of any/all items using photos, QR codes, tags and/or notes, and them organize everything by folders and sub-folders (there are up to 5 levels of sub-folders available).
7. MagicPlan
MagicPlan iOS-only app lets you create professional work estimates and floor plans, which is ideal if you're aiming to renovate your new space. Floor plans can be relatively simple or extremely complex – it's up to you. Once complete, floor plans can be exported to multiple formats (e.g. PDF, JPG, DXF, PNG, SVG, and CSV).
Learn More
To learn more about how technology can enhance your business move and help you enjoy a streamlined and efficient experience, contact the Precision team today. We have over 30 years of experience. Your consultation with us is free.
For even more help when it comes to moving your office, get our ultimate checklist for moving your office by downloading our FREE eBook: