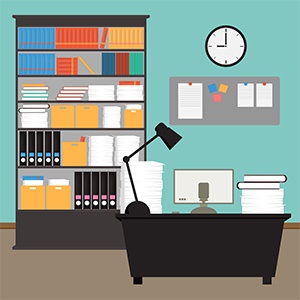 Here at Precision Office Furniture Installation, one of our value added services is that we help our customers sell their used office furniture, by leveraging our vast nationwide network of reputable and professional used office furniture brokers and dealers.
Essentially, other than accepting or rejecting an offer (and all of the offers that we facilitate for our customers are fair), there is nothing for our customers to do.
And in the event that our customers cannot quickly sell all of their used office furniture, we securely store it in our warehouse for days, weeks, months – or even years if necessary.
Selling Used Office Furniture On Your Own
However, occasionally we have customers who wish to sell their used office furniture on their own, rather than have us handle the process for them. In this case, we still want what's best for your business so we always share our insight into the process.
If you're considering selling your used office furniture, here are the 3 key questions that you should ask prospective buyers well ahead of time:
3 Questions For Potential Buyers of Used Office Furniture:
1. When will you be picking up the used office furniture?
The last thing you want is to make a deal, and then have your buyer "leave you twisting in the wind" because they didn't have time to pick up your used office furniture. Make sure you have a firm pick-up date in your agreement, and provisions for who will pay for moving and storage if the date is missed.
2. How will you be picking up the used office furniture?
You can't afford (literally) to have your items damaged while they're being uninstalled and moved, because it could mean the buyer balks at paying. Ensure that only qualified, experienced, licensed and bonded workers will be picking up your used office furniture. You should also take several photos of your used office furniture in their pre-move condition.
3. When and how will you be paying?
Unless you're dealing with a reputable broker or buyer who has a proven track record in the used office furniture marketplace, then be very careful when it comes to when and how you'll receive payment. The "when" should be before the furniture leaves your office, and the "how" should be by cash or certified check.
The Bottom Line
If you have the time – and it can take many hours spread out over weeks or even months – to sell your used office furniture, then keeping the above in mind will help you avoid problems and regrets.
Or, if you want to relieve yourself of the risk, time commitment and burden, simply call us today and we'll handle everything so that you can focus on running your business, not selling used office furniture!