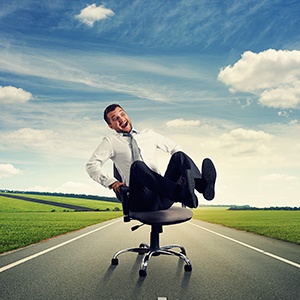 As you prepare to move your business, you may have determined that some of your office chairs shouldn't make the trip with you. Maybe they're beyond repair, significantly worn down, or they just don't match the style of your new décor. (Maybe they never matched the style of the old décor!)
If you've never heard of professional office furniture sourcing, your first instinct is likely to source new office chairs yourself to find the latest features, materials and styles. Most businesses prefer to explore the used office furniture marketplace to see if they can get the chairs they need at a discounted price.
If you're considering the latter approach, there are some basic "buyer beware" factors that you need to know before you start shopping, not after.
5 Things to Watch Out for When Buying Used Office Chairs
Follow these tips so your used office chair experience is rewarding rather than regrettable.
1. Don't be fooled by the marketing hype.
Just as with any other purchase, don't be fooled by marketing hype that claims used office furniture is (for example) "ergonomic". Frankly, when this claim is attached to an office chair - whether used or new - it does NOT necessarily verify a high level of comfort, quality or even safety.
2. Remember that safety is the #1 priority.
Each year, thousands of employees are injured – some of them quite seriously – by unsafe office chairs, such as those that tip over. Be sure that any used office chairs that you're considering are safe and will not put employees at risk.
3. Steer clear of knock-offs.
While the marketplace is full of credible used office furniture dealers and brokers, unfortunately there are some unscrupulous companies that re-brand low quality used office furniture so they "sound" very similar to popular, leading brand names like Steelcase, Herman Miller, Knoll, and others.
4. Focus on quality – not just on price.
As noted above, safety is the top priority when it comes to office chairs (new or used). Yet beyond that, you want to ensure that you're getting quality, too. For example, look for chairs that have high density foam padded seats, and quality casters (i.e. chair wheels). Thick chair bases and functional gas pumps (if applicable) are also essential, as is quality fabric.
5. Look for a warranty.
Just because you're sourcing used office chairs doesn't mean that you have to "take your chances". Yes, you certainly need to do your homework – and that is what the above is designed to help you do. Yet with that being said, you should only work with a dealer or broker who will provide you with a limited guarantee against major defects. Obviously this will not be the same guarantee that you'd get with new office furniture, but you will still have some protection. It's similar in some ways to buying a used car vs. a new car.
The Bottom Line
If you're looking to purchase used office furniture to spruce up your new space, then contact the experts at Precision today. We've built a nationwide network of reputable and experienced used office furniture dealers and brokers, and can help you safely and efficiently source specific models, colors, designs, etc.