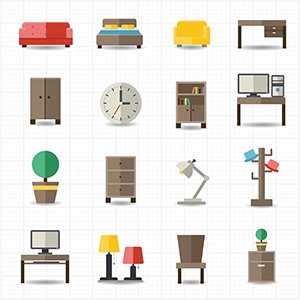 Here at Precision, our customers frequently ask us if they should repurpose office furniture from the old office for the new space.
This is an important question that every business should ask internally well in advance of calling your friendly office relocation services provider. Specifically, here are some of the benefits of repurposing used office furniture in a new space:
Reasons to Repurpose Used Furniture for Your New Office:
Significant Cost Savings
Office furniture is a high value asset, and new workstations can easily cost more than $5000 (depending on the material, design and features). As such, it may be extremely attractive – or perhaps even necessary – to repurpose used office furniture instead of replace it.
Repair & Refurbishing Makes More Sense
Through years of use, some items may be showing their age – and other items may be in need of repairing and refurbishing. Often (though not always), it simply makes more sense to upgrade these items vs. replace them, even if the budget exists to do so.
It Might be the Environmentally Responsible Thing to Do
According to the EPA, each year 3 million tons (that's right, million) of used office furniture winds up in landfills across the country. Repurposing your used office furniture in your new space can send a signal to your employees, customers and community that your company is environmentally responsible.
However, there are some potential advantages of purchasing new furniture that we would be remiss by not highlighting.
Reasons to Purchase New Furniture for Your Office:
Align With Your New Decor
Your new office space may (and probably does) have a décor that would look better and be more functional with new office furniture. This is especially the case if your used furniture is custom-sized, and as such won't optimally fit in its new surroundings.
You'll Have Investment Protection
Today's high quality office furniture is designed to last for decades. What's more, new furniture comes with a warranty that will cover parts and labor due to any defects in design, workmanship or installation.
It May Be Tax Deductible
File this one in the "make sure you talk to your accountant first", but there's a good chance that you'll be able to claim new furniture costs on your business taxes. This obviously won't offset the overall cost, but it could make it more affordable.
The Bottom Line
So that brings us back to the question that started us off: Can your used office furniture be repurposed in a new space? The answer is "possibly", and the ultimate determination is based on conducting an analysis of the pros and cons.
To learn more about this and other issues that will help you experience an efficient and stress-free move, download our free eBook, "How to Move Your Office in 5 Easy Steps".