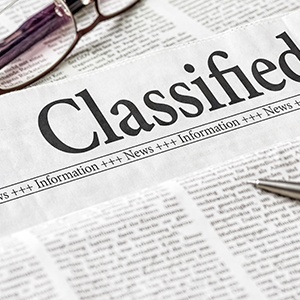 Each month, more than 60 million people in the U.S. visit Craigslist. And when you combine this with the traffic over at Geebo, Oodle, ClassifiedGiants, Backpage and so on, it's easy to understand why many businesses are at least browsing through online classifieds as they hunt for used office furniture.
However, while these sites can sometimes offer surprisingly good deals, the fact is that it's still something of a Wild Wild West meets your local neighborhood flea market experience. So yes, you can get lucky – but it's not something you should count on.
Buying Used Office Furniture Online
To help you avoid the pitfalls – which include ending up with office furniture you can't use or, worse, being scammed – here are some do's and don'ts to keep in mind before you start shopping:
DO'S of Buying Used Office Furniture Online:
Do have a list of the used office furniture items you need.
Do understand how much these items sell for in the used office furniture marketplace.
Do judge a book by its cover. If the ad looks amateur or fishy, walk away.
Do conduct your research on the seller. If they aren't willing to give you their phone number (in exchange for yours), then consider that a red flag.
Do ask questions about the history of the used office furniture, such as where it was used, in what industry it was used, how long it was used for, and how it came to be in the seller's possession.
Do take the time to review the used office furniture in person before sending any money.
DON'TS of Buying Used Office Furniture Online:
Don't settle for generic product shots that are pulled from office furniture retailers or manufacturers. If you can't find or don't receive actual photos, then walk away.
Don't be misled by a deal that looks too good to be true – because it probably is.

Don't expect to find an "amazing bargain". The used furniture marketplace is nationwide and very competitive. You might save an additional 10 or 15%, but you'll be spending more time and taking on more risk.
Our Professional Advice
With over 30 years helping businesses move – and this includes helping them source both new and used furniture – our advice on this is clear: avoid online classifieds. Period.
Simply put, credible companies that sell used office furniture don't use online classifieds. Of course they use the Internet (everyone uses the Internet!), but they have special websites that bring buyers and brokers/dealers together. It's safe, simple and trustworthy. Find a professional furniture installation company that specializes in sourcing used office furniture.
Get More Smart Office Relocation Tips
Download our free eBook "How to Move Your Office in 5 Easy Steps". It's full of practical tips to help you make your office move as efficient and stress-free as possible – and avoid risks and pitfalls.