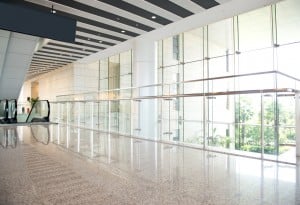 Moving to a new commercial property can be exciting for your business, but it can also wreak havoc on your technological equipment. In addition to knowing how to move an office's furniture and files, it's also necessary to understand how to properly move computers, copiers, servers, monitors, point of sale (POS) systems and other IT equipment from one location to another. If you're in the process of creating your office relocation plan for your commercial move, here are some office relocation tips to keep in mind when it comes to your technological devices.
1.Have a place for everything

When you upgrade to a new office or retail space, there's a good chance that you have more room than you did before. Whether you're working with more space or not, however, you should have an idea of your new building's layout. Make sure that your workers will have plenty of space for their computers on their desks and that there are designated spaces for copiers, servers, and other items. Having a plan before you move can ensure a swift transition between facilities.




2.Use the cloud

During a corporate relocation, it's possible that your employees won't be able to access all the necessary files and documents they need if those items haven't been unpacked or if servers haven't been set up. One way to get around this is to use cloud-computing applications. This method of storage lets you access your files from anywhere as long as you have an internet connection, making it the perfect solution for offices undergoing a transition to a new building. (In addition to uploading files, don't forget to automate out-of-office replies and notify your clients of the move, so there are no unpleasant surprises for them -- or you -- later!)




3.Upgrade equipment

Here is one of the most basic office relocation tips for any type of company. If you want to have fewer items to drag with you to a new location, use this opportunity to upgrade your computers, POS systems, and other technology. You can donate the old items or sell them if they are still salvageable. To save time, you can have the new equipment delivered directly to your new location.




4.Hire a moving company

Moving companies aren't just for your furniture. Some IT equipment can require special handling, meaning that it can't just be tossed into a cardboard box with other items. When dealing with pricey IT devices, it's sometimes best to leave them in the hands of a professional. Call an office relocation service to see how they can help you move your devices. Some services will even set those items up for you.



Want more office relocation tips for your IT systems? Be sure to contact an expert moving company to get more information on tearing down and setting up your information technology. You can also ask questions below if you have general questions about your move.