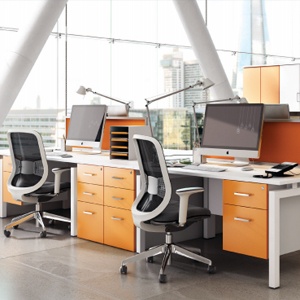 When preparing for your business move, there are many key questions that must be answered to ensure that your experience is smooth, successful and stress-free. However, an aspect that many businesses overlook has to do with office furniture evaluation and sourcing.
Specifically, it's in your best interest to answer the following 3 office furniture sourcing questions BEFORE your office move rather than after, since as the old saying goes, "an ounce of prevention is worth a pound of cure!"
1. Will your current furniture work in your new space?
Answering this question is not about measurements and dimensions, but it's about function and capacity.
That is, if some or even most of your current furniture isn't contributing to a productive, efficient, comfortable, aesthetically pleasing and impressive environment, then now is the ideal time to make that determination. After all, why would you want to go through the expense and hassle of moving office furniture that should be replaced instead?
2. How will you get rid of unwanted furniture?
Once you've decided on what's staying and what's being left behind, you need a game plan to effectively, efficiently and appropriately decommission your unwanted office furniture. Key aspects to cover include (but aren't limited to):
Disassembling/dismantling all furniture to be decommissioned
Creating an inventory of your excess office furnishings
Photographing all of the products to be decommissioned
Advertising your available products or finding suitable donors

Evaluating all furniture either for employee or open market sale
Packing, loading, warehousing and storing decommissioned furniture
Broom-cleaning the decommissioned space
3. Where will you cost effectively source additional furniture?
Even if you plan on taking 100% of your current furniture with you – which is unlikely, but possible – then there's a good chance that you'll still need to purchase additional furniture to optimize your new space. Obviously, you want to handle this as effectively and cost-effectively as possible.
FREE RESOURCE: Create Your Office Furniture Sourcing Game Plan
Your office furniture sourcing experience can be straightforward, cost-effective and stress-free; that is, if you answer the above questions and get the expert help you need.
To help you achieve this goal, download our FREE RESOURCE "The Ultimate Checklist for Moving Your Office". It's a simple, yet comprehensive checklist that you can use immediately to create your successful office furniture sourcing game plan.