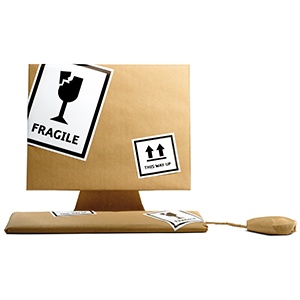 While professional business movers will certainly do the job for you, you may find it convenient or more efficient (i.e. time saving) to have employees pack their computers ahead of your business move.
We should note that you should take caution when involving employees in any more strenuous moving projects - if employees make a moving mistake and get hurt, it can prove to be devastating for business.
If so, below are some industry tips for your employees to help make the moving process a success (feel free to print this out and send it to your employees, or simply send them a link to this article).
Quick Tips for Packing the Computers for Your Business Move
Before unplugging cords or looking for boxes, backup all data to DVD, flash drive, data center, or other source. Even if the business move is literally across the street, as the old saying goes: It's better to be safe than sorry.
Remove any CDs or DVDs from drives, and pull out any flash drives.
Turn off the computer and monitor, and disconnect them from the power source.
Remove one cord at a time, and place them in a storage container. Put a label on the container as well with the employee's name.
Place the monitor and computer in boxes; ideally the original ones that they came in. If this isn't possible, make sure that the boxes are suitable and will prevent hardware from damage during the move.
Gather all software and hardware manuals and put them in bag or storage container.
Label each box with the employee's name and, if applicable, the room or workstation in the new location (e.g. Jane Smith, back office, workstation 4).
Important Note
Please note: Your employee's safety is your number one priority, and protecting your valuable assets from damage is your number two priority. Please don't compromise on either of these simply because it may be more expedient for employees to pack their computers.
Sure, employees can help with your office move, but professional business movers can do the job safely and efficiently without putting employees in danger of hurting themselves or the business. What's more, they'll also unpack and setup all computers and monitors in your new location, so that your employees can get back to work as quickly as possible.
Learn More
To learn more about how professionals can help with your business move, contact us today. We have decades of experience working with businesses of all sizes and shapes, and would be happy to give you the benefit of our experience and insight.
Your consultation with us is free, and unlike many other business moving companies that are, shall we say "communication challenged", we truly enjoy speaking with our customers, learning about their needs, and sharing our advice. In other words, we don't sell business moving services. We build relationships, which is why we have an extremely high number of repeat customers (well above the industry average), and the vast majority of our business comes through word-of-mouth referrals.