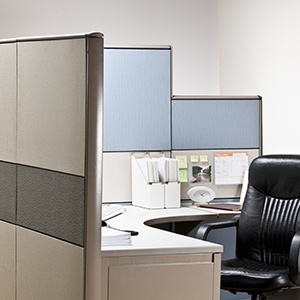 As you plan for your business move, you're likely assessing your used cubicles and deciding whether to repurpose the furniture for the new office space or perhaps sell them in the large, active and competitive used furniture market.
Obviously, the question you need to answer before you invest time and any other resources in selling your used cubicles is: how much are they worth?
After all, if the ROI doesn't justify the effort, then you might as well try to donate them to a local charity; which isn't just a noble thing to do, but it can also earn you a tax deduction.
Just as with used cars or older homes, there are two key factors that determine how much your used office cubicles are worth: condition and demand.
1. Condition
Naturally, a used furniture dealer, broker, or private buyer (i.e. another business in your building or in your network that is looking for some additional cubicles) won't expect your used cubicles to be in mint condition. However, the amount that they're willing to offer will be significantly determined – or diminished – by the condition.
This includes functionality, as well as esthetic considerations such as color loss, scratches, and so on. While these imperfections can often be refurbished (and there are many companies that specialize in doing this), it will directly reduce how much your used cubicles are worth.
2. Demand
You may be surprised to discover that there are many different kinds and types of cubicles; each with their own signature colors, styles, designs, materials and so on.
If your used office cubicles happen to be in-demand at a time when you're hoping to sell them, then you'll command a premium, plus you'll be able to unload them faster. On the other hand, if there's a glut of supply already and demand is sluggish, then it will negatively impact the price and length of time it takes to sell.
Doing the Math On Your Used Cubicles
So in light of the above, what's the MOST you can expect to get for your used office cubicles? If they're in decent condition and are in-demand, then you might be offered around $500-$1000 for used cubicles measuring 8'x8'. New cubicles of this size generally go for around $3,500 (though it can be higher based on material and design).
Keep in mind that the dealer or broker you sell it to will likely need to do some refurbishing, plus cover the costs of moving and storing the furniture. You may be able to command a slightly higher price if you find a private buyer, but this can be time consuming and not worth the effort in the long run. After all, you're not in the used furniture business!
The Bottom Line
Selling your used cubicles can be a smart move. However, there are factors and variables to consider that might ultimately convince you to donate or recycle them instead.
For additional help in deciding what to do with your used cubicles and other furniture, download our FREE flowchart entitled: "When Moving, Should You Take Your Current Office Furniture?"