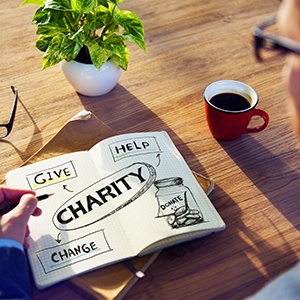 You've generously decided that instead of moving some of your used office furniture to your new location, you'll donate it a local charity organization.
First of all: WAY TO GO!
Not only will you be making a big difference (more on this in a moment), but your employees will feel great about being part of an organization that doesn't just talk about "giving back to the community" but demonstrates this commitment.
The Benefits of Donating Used Office Furniture
Donating used office furniture makes a big difference (sometimes even bigger than we first realize).
The first benefit is that a worthy charity – or possibly a group of charities – will either put your used office furniture in their environment or sell your used furniture. Either way, it means that they'll free up more capital to spend on helping others and fulfilling their worthy community mandate.
The second benefit is that you'll be helping the environment. That's because the ultimate recipient of your donation won't have to source new furniture, which requires raw materials and creates a carbon footprint.
The third benefit – which is typically not the primary or even secondary reason why most businesses donate used office furniture, but is more of a welcome by-product – is that your furniture donation may be tax deductible. If so, the amount will be based on "fair market value" for your furniture. Most charities that have experience accepting used furniture will be able to help you determine this amount.
4 Tips for Donating Used Office Furniture
Now that you're (hopefully) convinced of the value and importance of donating your used office furniture, the next question is: how do you carry out your plan? Basically, there are 4 steps:
1. Identify the used furniture that you want to donate.
Carefully and clearly mark the used furniture that you want to donate, and label it so that there is no possible way it may be left behind -- or that items you want to take with you to your new location is mistakenly donated.
2. Make sure the used office furniture is in reasonably good condition.
While charities are certainly grateful for receiving used office furniture donations, they aren't recycling facilities or garbage dumps. As such, ensure that any used office furniture that you want to donate is in reasonably good condition; especially with respect to function and safety. While worn down upholstery or scratches may be OK (and can be refurbished), chairs that tip over or cubicles that are a strong sneeze away from collapsing won't be accepted. You'll either need to fix these up to donate them or look into furniture decommission to dispose of them appropriately.
3. Contact a local charity.
The next step is to contact a local charity and get the details on getting your used office furniture from your location to theirs. Many charities will gladly pick-up your items, provided that they're placed in a lobby or reception area, or possibly on the curb. If you aren't sure which charity to contact, then speak to your professional moving company. They should be able to provide you with a list of charities that their previous clients have connected with.
4. Don't forget your receipt!

As noted above, once of the by-products of donating used office furniture is that you'll likely be eligible for a tax deductible receipt. If you have any doubt about the status of an organization, you can do some checking on the IRS's website.
The Bottom Line
Donating your used office furniture is a generous decision, and one that the team here at Precision applauds you for. You'll be making a positive difference in many different ways!
For additional guidance on deciding which items of used office furniture you should take with you to your new location, and which you should leave behind and either donate or decommission, download our FREE flowchart entitled: "When Moving, Should You Take Your Current Office Furniture?"