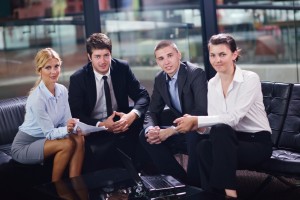 When companies grow, one of the first concerns that pops up is a need for more space. When this happens, smaller companies tend to see relocation as the most viable option, while larger companies usually have more than one office and can, instead, relocate employees. As of 2011, the Midwest was the most popular U.S region for company moves, with 37% of companies preferring it. In many cases, this is because of the low cost of living, and low cost of doing business in many Midwestern states.
If you're planning on moving your office, there are many different i's to dot, and t's to cross. Here are several tips for managing your employees, your move, and your business during this time.
How to Make Office Moves Better for Employees
It's no secret that many employees are going to be less than thrilled about a relocation. How can you sweeten the deal? Most companies offer benefits and assistance with the moving process, including reimbursement for the moving truck (70% of companies do this), and reimbursement for packing up all their items (72%).
About 65% of employees are reluctant to relocate, owing to worries about their home and mortgage. Help reduce their stress by providing information about home mortgages, and the real estate in the area you'll be moving to.
Keep ergonomics tips for office workers in mind if and when you need to select new furniture. Having a comfortable work environment will make the transition easier.
How to Make the Move Easier on Your Business
Before moving, utilize cloud-computing storage and application systems. It will make it a lot easier to move data from office to office, without having to worry about any of it getting lost in the move.
Hire a corporate relocation company to handle all the details. You want to concentrate on making sure your company has a smooth transition, and your time will be better spent managing and making decisions, than spending hours contacting moving companies and real estate agencies, coordinating the packing and utilities transfers, et cetera.
Create an office furniture installation checklist. The last thing you want is for your new office to open, only for employees to come in and find the desks and cubicles are still waiting in pieces in the corner.
Do you have tips for ensuring successful office moves? Let us know in the comments.