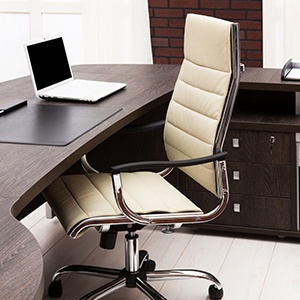 One of the best ways you can boost everything from employee morale to bottom-line profitability is by adding ergonomic office furniture to your environment. Here are the 6 key benefits that highlight why ergonomic office furniture is an investment rather than an expense:
1. Cost Reduction
The United States Department of Labor has notes that ergonomic office furniture can play a role in reducing worker compensation costs associated with musculoskeletal disorders (MSDs).
2. Enhanced Productivity
As noted by injury prevention specialist firm Ergonomics Plus, ergonomic office furniture enhances employee productivity because it allows for workers to maintain good posture, exert themselves less, and be more efficient at their workstations/work area.
3. Improved Quality
Ergonomic office furniture helps employees remain alert and energized vs. tired and fatigued. This improves their overall quality of work, and helps avoid everything from re-work to recalls.
4. Better Employee Engagement
Businesses often talk about how employees "are their most valuable asset." Investing in ergonomic office furniture clearly demonstrates this commitment. This not only boosts engagement and morale among current employees, but it can help with recruiting as well.
5. Greater Awareness of Safety
As always, the best way to deal with accidents and injuries is to avoid them from occuring at all. Investing in ergonomic office furniture encourages employees to be more aware of safety in the workplace.
6. Improved Brand & Image
Businesses that invest in ergonomic office furniture can showcase this progressive decision on their website, social media pages (e.g. Facebook), newsletters, and other customer-facing communications. This boosts image and branding, and can make a lasting positive impression on both current and prospective customers.
Some Words of Warning
As noted above, the benefits of investing in ergonomic office furniture are compelling and certainly worthwhile. However, in order to reap these advantages, it's essential to have all furniture installed by a professional office installer. Otherwise, the following negative consequence can and likely will occur:
The ergonomic office furniture won't be used to its full potential, which is a waste of money that can run into the tens of thousands of dollars.
Instead of maximizing their comfort and supporting their health, the ergonomic office furniture may break down and cause injury.
Improperly installed ergonomic office furniture can lead to excess wear and tear, thereby shortening its lifespan and/or leading to costly maintenance bills.
Learn More
To learn more, contact the Precision team today. We're the area's most experienced independent professional furniture installation team, and have extensive experience with all aspects of ergonomic office furniture – from sourcing to installation to storage. Your consultation with us is free.
For more information about office furniture and where you should take your current furniture during a move, download our FREE infographic: