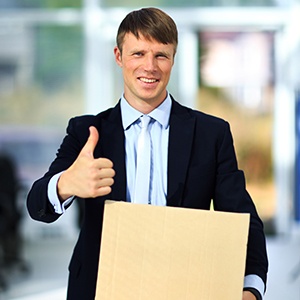 At Precision, we've been helping businesses move efficiently and cost-effectively for over 30 years – and along the way, we've answered more questions than we can possibly remember!
However, of all the questions that our customers ask, there are 5 in particular that we feel are among the most important. In fact, if our customers don't ask us these questions, we're the ones who ask them – because we want to ensure that their business move experience is as efficient and stress-free as possible.
Here are the first 2 of the "Big 5" questions to ask and answer before your business move:
1. Will the existing furniture fit into the new space?
This question has two aspects: physical space and interior design.
The first aspect is an inquiry on whether the existing furniture physically fit into the new space. You should never assume the answer to this, or rely on a guestimate based on "eyeballing" the new location. Everything should be measured and verified, because if a cabinet, workstation or any other piece of furniture is even a few inches too long or high (or not long or high enough), it may need to be moved elsewhere, stored or decommissioned.
The second aspect is about interior design. Will the existing furniture align with the layout of the new space? Furniture that may be functional in one environment may not be in another because of the design differences, even if there is enough physical space available.
2. What should you do with your old furniture?
An upcoming business move presents an ideal opportunity to decide what to do with your old furniture. After all, you don't want to incur the expense and hassle of moving furniture that you won't use, or that may not even be safe or functional anymore. Yet at the same time, you can't simply put your old furniture "out on the curb".
Figuring out what to do with your old furniture doesn't need to be a confusing or stressful exercise, either. We've created a new Infographic that will help you determine what furniture to take to your business's new home, what to leave behind, and how to decommission it appropriately. Click here to download it now.
Stay Tuned for Part 2!
In part 2, we'll look at the remaining 3 questions that round out the "Big 5" that you want to ask before your business move – not after. Stay tuned!