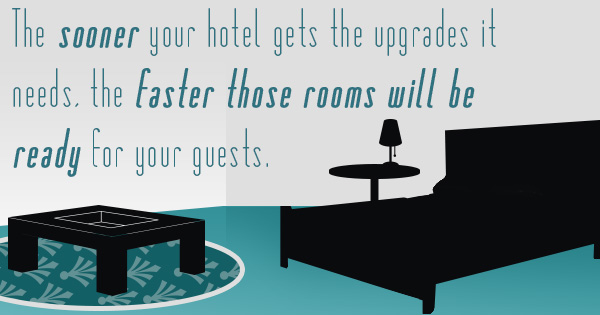 Do you own a business in the hospitality industry? If so, you likely already know how important it is for your hotel or motel to have everything in order before your guests arrive. Whether you're setting up a brand new establishment or you're looking to improve the one you have, getting hotel furniture installation services could improve your guests' overall experience and get you the rave reviews online that you need to stay ahead of your competitors.
If you're considering using an installation service for the room and/or lobby furniture, here are three reasons why this could be a wise investment for your hotel -- besides boosting your ratings on Yelp:
1. Your business can get a new look with hotel furniture installation services
Existing hotels and motels often fall into a rut if they've had the same look for decades. Face it -- no one wants to stay in a hotel room that looks like it hasn't been redesigned since the 1970s. An experienced furniture installation service will be able to help you choose a look that will update what you have or give you a unique and modern look for your brand new business.
2. The process moves faster with professional installation
Getting your workers to put together all of that furniture (or doing it yourself) could wind up costing you in downtime. While it may sound more economical to do one room at a time, that process could wind up taking forever, and it could end up costing you if you're busy but closing rooms for upgrades. Hiring a professional furniture installation service can get the job done in a matter of days or weeks -- not months or years.
3. Rooms and other hotel areas will be ready for guests. The sooner your hotel gets the upgrades it needs, the faster those rooms will be ready for your guests. Whether you're installing new, comfier beds or redesigning entire suites, guests are sure to be satisfied when rooms look like they've been furnished by professionals. Even a sleek makeover to the hotel lobby will provide a warm welcome for guests as soon as they arrive.
Whether or not your business has relocated, an upgrade can be a challenging experience for any business. Getting professionals for this work, however, can bring you peace of mind and get you in business as soon as possible. Want to know more about what a hotel furniture installation company could do for your business? Get in touch, and leave a comment, too.