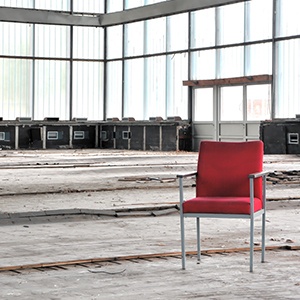 Simply put, office furniture decommission is the process of removing surplus, unwanted or potentially unsafe items of office furniture from your inventory.
While decommissioning office furniture can happen at anytime, it invariably becomes an issue during a business move or during a liquidation. Indeed, most businesses – even small ones with limited storage space – can be surprised to discover just how much furniture they have on-hand (either in use or storage), but don't want to take with them to their new location.
Just Say NO to DIY Office Furniture Decommissioning
If your business needs to decommission office furniture, then the possibility of taking the do it yourself (DIY) route may seem practical and cost effective. However, as thousands of businesses each year will attest: it's neither!
This is because trying to sell used furniture can be an exercise in frustration – and futility as well. Each item has to be assessed and then presented to buyers – some of whom are simply not reputable and will either offer you a "low-ball" price or won't abide by the terms of the agreement (such as removing the decommissioned office furniture by a certain date).
Frankly, unless someone on your executive team has a deep background in used office furniture sales – and this is unlikely – then it's much smarter to work with a professional partner.
Precision: The Office Furniture Decommission Specialists
At Precision Office Furniture Installation, we've built a large, nationwide network of reputable used office furniture dealers and brokers. We also know the factors that determine market value (e.g. demand, quality, condition, color, material, etc.), and will ensure that you're only presented with fair and reasonable offers. What's more, you maintain full ownership of all items until they're sold, so there is no risk.
At the same time, we handle all dissembling and dismantling of your decommissioned office furniture, which is a valuable service since cubicles, workstations, desks and other items are often constructed with several integrated components – and damaging any of them during the decommission process will either devalue them, or render them impossible to sell as-is.
We also take high resolution digital photos of each item, and advertise your available offerings to our network via the web and email. And once you agree to an offer, we will pack/load each item for pick-up or transportation, and broom-clean the decommissioned space.
Or, in the event that some of your decommissioned office furniture items don't sell – or that you no longer wish to sell – we can either help you donate them to a worthy local charity or affordably store them in our secure, climate-controlled warehouse for as long as you wish (days, weeks, months or even years).
Learn More
To learn more about how the Precision team can completely serve your office furniture decommission needs, contact us today. As always, your consultation is free and there is no obligation or risk.