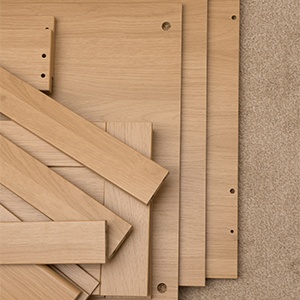 As you may already know, office furniture disassembly and reassembly (respectively) are critically important phases in an overall office relocation plan.
However, you may not know that working with professionals is essential rather than optional; because if you work with amateurs or try the DIY route, the likelihood of something going wrong is very high, and the consequences can range from severe to catastrophic.
With over 30 years of experience in the industry we've heard more horror stories than we can remember! So below, we highlight the 3 reasons why you should absolutely leave the disassembly and reassembly to professional office furniture installers:
You'll Stay on Schedule
One of the biggest office relocation concerns is with respect to schedule overruns. This makes perfect sense, since every extra hour – let alone extra day – that a business is not operational (or fully operational) costs money. And we're not talking about a few bucks here. The financial hit usually starts in the thousands, and can skyrocket in a remarkably short period of time.
Professional office furniture installers will work with you to build a realistic schedule based on your actual inventory (i.e. no fuzzy "guestimates"), and then precisely stick to the agreed upon schedule so there are no overruns.
Your Assets will be Safe
Just as any commercial insurance company will confirm: office furniture is a valuable asset. Indeed, even a single workstation or cubicle can cost several thousand dollars.
Professional installers have the certified knowledge and in-depth experience to ensure that your assets will be safe and undamaged during all phases: disassembly, transit, and reassembly (if temporary warehouse storage is part of the process then of course that would be included).
What's more, while you can safely and confidently expect the best, you can nevertheless take comfort in knowing that professional office furniture installers are fully insured and bonded "just in case" something goes wrong along the way.
You'll Save Money
With professional office furniture installers, you can be assured that disassembly and reassembly will be done efficiently – which means that your overall office move will be completed in the shortest possible time, and that you won't pay extra costs for overtime, extra trucks, etc. Everything will be planned down to the last detail, and handled with a "clockwork" level of precision. If you haven't seen professional installers in action, then prepared to be impressed and amazed!
What's more, with professionals, you don't have to worry about receiving an invoice that doesn't align with your agreement – which, unfortunately, is something that happens frequently with amateur installers. Long before your office relocation even starts, you'll know exactly what the bottom-line cost will be.
Learn More
To learn more, contact the Precision team today. We're proud to be the area's most experienced independent team of professional office furniture installers! Also be sure and download our FREE checklist for moving your office to aid you in your office move: