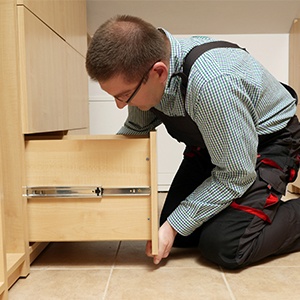 When it comes to choosing a team to handle your office furniture installation needs, naturally you want a mix of professionalism, service, performance and value.
However, there's another piece of the puzzle that, in some ways, is even more important than any other -- because it will directly determine whether your office relocation is successful or stressful: experience.
To help you avoid that nightmare, below we highlight 3 costly mistakes made by inexperienced office furniture installers:
Schedule Overruns
Inexperienced furniture installers almost always underestimate how much time it takes to both un-install and reinstall furniture – which means that your office relocation will take longer than it's supposed to, and therefore cost more than it should. Delays can also damage your brand and reputation as both customers and employees find themselves waiting for things to "get back to normal" in your new space.
Damaged Office Furniture
Office furniture is far more complex and elaborate than residential furniture (yes, even stuff from IKEA that you wish someone else would put together for you!). Inexperienced office furniture installers often damage items because they don't have, or don't know how to use, the right mix of hand and power tools.
What's more, sometimes this damage isn't revealed for weeks, months or even years -- which means it's too late for you to do anything about it other than repair or replace.
Safety Hazards
Each year, thousands of employees and even customers are injured due to poorly-installed office furniture, such as workstations collapsing, cubicles toppling over, and so on. And while not all of these are the result of incompetence on the part of inexperienced office furniture installers, enough of them are to make it a major concern – and something you certainly want to avoid.
Plus, as noted above, sometimes installation defects aren't revealed immediately (i.e. something is fundamentally wrong, but it's not visible to the naked eye and everything "seems normal"). However, the office furniture is essentially a ticking time bomb, and it's just a matter of time before something goes wrong…and someone gets hurt!
Precision: The Experience You Deserve – and Demand!
At Precision, we're proud to be the area's most experienced independent office furniture installation company. Our trained, knowledgeable and, of course, highly experienced team is certified directly from the manufacturer on many office furniture brands and lines. We have expertise with both hand and power tools, and always provide a "Punch List" to ensure the area is clean and our clients are 100% happy before we close an engagement. To learn more, contact us today. Your consultation with us is free.
For more information on how to move your office and the ultimate checklist, download our FREE eBook: