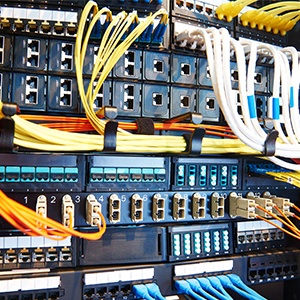 As you know – or as your CFO, accountant or facility manager will gladly remind you! – IT equipment is a major investment. In fact, in some businesses, IT equipment can be even valuable than any other capital asset, including furniture, inventory, and possibly even the office or building itself!
Given the critical importance of your IT equipment and the size of your investment, naturally you want to ensure that everything is moved safely and efficiently during your office relocation. Here are 4 tips to point you in that direction, and ensure that you aren't forced to repair or replace damaged items:
Ensure your new space has adequate infrastructure
Well in advance of moving day, carefully survey your new space (or potential new space if you're still exploring possibilities), in order to ensure that it has an adequate infrastructure to meet your IT needs. This includes network cabling, electrical wiring, grounded power outlets, power generation, and if necessary, climate-controlled rooms for servers. TechRadar.com has a helpful article on how to create a modern IT infrastructure on a small business budget.
It can also include security features if you need or want to have a physical barrier between internal and external networks, which is a best practice in some industries, or mandatory in others (e.g. some financial services, healthcare firms, etc.).
Include disconnection and un-installation into the office relocation plan
Some businesses are unpleasantly surprised to discover how long it takes them to disconnect and uninstall IT equipment. Everything from printers to scanners to monitors need to be properly and carefully removed and packed, and all cords and cables need to be collected and labelled. Even in small businesses this can take several hours. Including it in your office relocation plan will ensure that it doesn't sidetrack your schedule – and add to your cost and stress.
Backup, Backup and Backup
This advice doesn't require much elaboration! Well before moving day, backup all data to your designated source (e.g. cloud, off-site disaster recovery, etc.). Ideally, you won't need to access any of this data, and your systems will be fully operational and online in your new location as planned. However, just in case something is damaged and accessing data is delayed or impossible, you want to know that backups have you covered.
Hire a professional office relocation team
We've saved the most important tip for last: the best way you can ensure that your IT equipment (and data) makes it to your new location safely and efficiently, is to partner with a professional office relocation team. This team is comprised of specialists who will help plan and carry out every aspect of your move – including all details related to your IT equipment and infrastructure. Together with your IT staff, they'll also handle all setup so that your employees are ready to be productive right away.
Learn More
To learn more, contact the Precision team today. We'll answer your questions, share valuable and risk-reducing insights, and make sure that the only surprise you experience is how safe and efficient we make your entire office relocation experience!
For more information about the ultimate checklist for moving your office, download our FREE eBook: