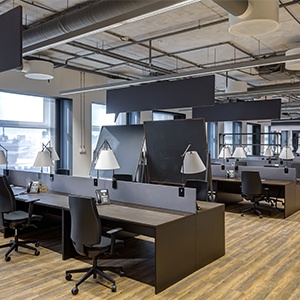 When it comes to reconfiguring your current office or moving to a new location, partnering with a proven, reputable and experienced office furniture installation team is one of the smartest and safest decisions you can make.
To point you in that direction, below we highlight 8 things that an office furniture company can do for you:
Help you plan and organize all installations for both new and/or used furniture from a variety of manufacturers, including (but not limited to) HON/Allsteel, Haworth, Herman Miller, Kimball, Knoll, Steelcase, Teckinon, Trendway, and several others. They will also help with reinstallations for discontinued items – even if the manufacturer has since gone out of business.
Help you reconfigure your office space to optimize traffic flows, maximize space utilization, and enhance the overall quality and functionality of your environment – which will ultimately improve everything from employee engagement, to bottom-line performance and productivity.
If applicable, coordinate and receive shipments of your new or used office furniture, safely store them in a secured and climate-controlled warehouse, and have them delivered on-site and ready for installation per your schedule.

Assign to you a dedicated project manager who will be responsible and accountable for keeping you informed at every stage, and taking ownership of your questions or requests, and seeing them through to resolution.

Completely handle all aspects office furniture installation, including the skilled used of hand and power tools, and ensuring that there is no risk of damage to flooring, wall coverings, outlets, etc.

Test and verify that all furniture installations have been done correctly per manufacturers' specifications, and in light of prevailing industry best practices. After all, office furniture cannot just "look" like it's properly installed – because if something is loose, missing or improperly fastened, weighted or bolted, then an accident or injury is just a matter of time.

Broom clean the area after installation is complete, and ensure that the environment is "ready for business" on time.

Treat you and your staff with professionalism, courtesy and attentiveness at all times, without exception or compromise.
Learn More
At Precision, we proudly provide our clients with all of the above professional services. In fact, we're the areas oldest independent office furniture installation company, and our legacy of quality assurance, client service and lasting value is second to none.
To learn more, contact us today and take advantage of your free consultation. For more information and to get the ultimate checklist for moving your office, download our FREE eBook: