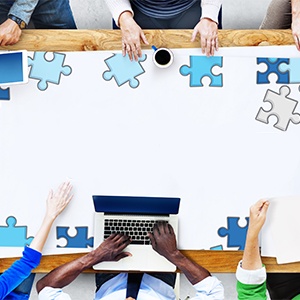 If you have an office relocation on the horizon, it's a safe bet that you've either focused on – or will soon focus on – issues like space utilization, workflow efficiency, and other layout-related elements and factors. Indeed, unlike a residential move, an office relocation is less about preferences (although these do play a role), and more about functionality.
However, there's another key piece of the office relocation puzzle that you may have overlooked – not due to neglect, but because it's less apparent than other considerations like those noted above. Yet, according to INC Magazine, it's an essential part of a successful and growing business: collaboration.
With this in mind, here are 3 ways to make your next office more collaborative – and ultimately, boost performance, productivity, employee engagement, customer service and profitability:
Open Spaces
An open space (sometimes called a collaborative space) environment is one that reduces or eliminates walls between employees, and allows them to more informally and directly communicate, share information, brainstorm, problem solve, and sometimes simply give each other support and encouragement – which can go a long way towards boosting morale and helping alleviate stress.
What's more, open spaces are typically much less expensive to deploy, since as noted above there are fewer (if any) walls, and office furniture and other common resources (e.g. printers, scanners, shredders, etc.) can be more easily shared between more employees.
Breakout Spaces
Breakout spaces are small zones deployed throughout an office that allow employees to relax, unwind, chat and informally (yet productively!) collaborate. In larger multi-floor offices, breakout spaces are typically deployed near high-traffic common areas, such as next to stairwells, the lunchroom, the employee entrance, and so on. However, even smaller offices can benefit from breakout spaces – especially since they're fast and easy to setup, and affordable as well.
Sit-to-Stand Desks
One part of the law of inertia states that "a body at rest stays at rest". Unfortunately, in the workplace this is often expressed as employees sitting – and staying! – at their desks for several hours at a time, which isn't just detrimental to their health and wellness, but it reduces (if not in some cases eliminates) any resemblance of collaboration.
Sit-to-stand desks allow employees to sit when they want/need, but it also allows them to easily and stand up and continue working -- which encourages mobility and interaction, while it also supports better circulation and flexibility. Plus, sit-to-stand desks look very impressive, and instantly give any office environment a sharp, impressive and future-oriented feel.
Learn More
To learn more about how to make your office more collaborative when moving to a new space, contact the Precision team today. We're the area's most experienced independent office relocation company, and will work with you to ensure that your business's new home is more functional, better utilized, more collaborative, and ready to support your business's success and growth for many years to come!
If you're looking for more information about office moves and the ultimate checklist to have a successful relocation, download our FREE eBook: