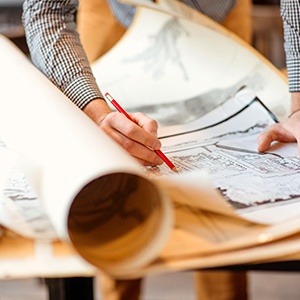 Unlike a residential move that can typically be planned and scheduled within a week or so, an office move is a more sophisticated and complex process, because there are many different aspects that must be properly coordinated. Otherwise, the office move could start later or take longer than planned – either of which add to costs, risks and frustration.
Fortunately, "complex process" doesn't mean "complicated process" – because if you proactively arm yourself with the right information, you can make your office move as efficient and stress-free as possible.
Based on decades of experience moving thousands of businesses across the city, state and country, below we highlight what should be planned in advance of your office move:
3 Things to Plan In Advance of Your Office Move
1. Space Utilization
While offices are measured in square feet and number of rooms (and possibly floors as well), the fact is that space utilization is an extremely important planning consideration. Your goal is establish efficient work areas that align with the needs of your employees, as well as your customers and visitors.
Naturally, you don't want to mull over these major layout decisions on moving day. Rather, you want to plan everything out so that your professional moving partner will install your office furniture in the right, best location.
2. Furniture Issues
Your office furniture is obviously an asset – but that doesn't necessarily mean that it should make the journey with you to your new location. Some items may be worn out and unsafe, while others may be redundant or don't match your new décor.
Your professional moving partner will address what to do with your old office furniture with you well in advance of your move, so that you can determine how to repurpose used office furniture for the new office as well as which ones will need to be decommissioned and either sold, donated or recycled.
3. Timeline
While moving day is when the proverbial "rubber hits the road", many different tasks and activities need to take place in the months, weeks and especially days leading up to it. This includes (but is not limited to) ensuring that employees pack/box/label their office supplies, that IT, telecom and security systems are properly setup, that customers, suppliers and partners are updated accordingly, and so on.
Your professional moving partner will work with you to create a robust, realistic office relocation timeline that maps out all required activities, so that there are no unwelcome surprises or shocks along the way.
The Bottom Line
When it comes to your office move, your goal is crystal clear: you want a smooth, successful and stress-free experience that allows you to "hit the ground running" in your business's new home.
Putting together the right plan in advance of your office move – and working with your professional moving partner every step of the way – will ensure that your expectations are met - or better yet, exceeded!